Smart Devices. Smart Buildings.

Smart Business.
Connecting Companies, Communities and People who are redefining Smart and Connected Systems.
Learn More
VENUE & EVENT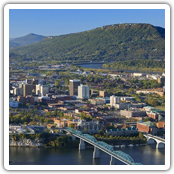 The Chattanoogan
Chattanooga, TN
View Map
Visit Website
The building automation, energy, and M2M industries have a variety of events. Some are under the control of a single manufacturer. Some are huge events where the needs of systems integrators, technology vendors and their customers are lost in a sea of unrelated products. Haystack Connect directly serves the needs of the customers and partners who are on the leading edge of applying smart devices and smart buildings technology. The event is produced by a community of companies who share the vision that a connected community can move the industry forward in ways that no single supplier can.

We have chosen to take our inspiration and event name and from the success of the open source community that is addressing the challenges of making smart device data work seamlessly across applications of all types - www.project-haystack.org
The Chattanoogan hotel, Chattanooga's only AAA Four Diamond-rated full-service hotel, is the ideal setting for superior meetings. Located in the heart of downtown Chattanooga with spectacular views of beautiful Lookout Mountain, the upscale hotel offers 199 newly renovated guestrooms and suites, three outstanding dining establishments, a full-service spa and 25,000 square feet of technologically advanced meeting space.

The recipient of numerous awards and accolades, The Chattanoogan features superior service, elegant décor, upscale amenities and state-of-the-art conference facilities. The upscale Tennessee hotel is within a two-hour drive from many cities in the Southeast, including Atlanta, Nashville and Birmingham, and is within walking distance of the city's top attractions, Chattanooga restaurants and shopping.